US Gambling Revenues for Q1 2022 (Jan-Mar) tops at an impressive $14.31 billion which is an increase of 29% when compared to Q1 2021. The CEO of the American Gaming Association (AGA) comments the figures are a continuation of the record year of 2021 and mention that this is despite US labor shortages and a soaring inflation in the country.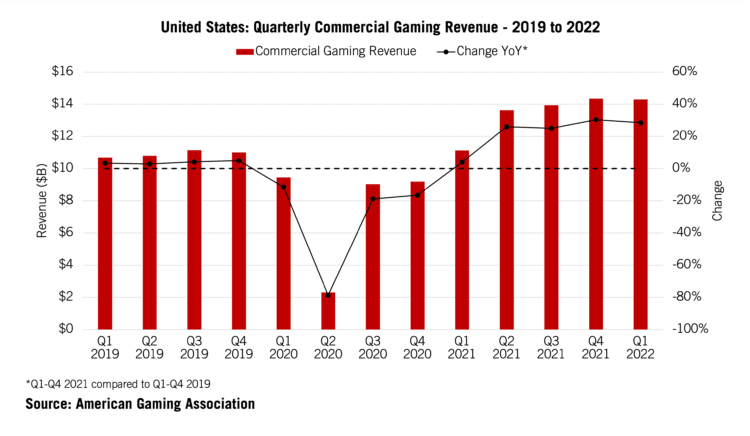 The $14.31 billion in commercial revenues are only beaten by Q4 2021 ($14.35B) but bear in mind that less games in the NFL and NBA have been played during January-March compared to at the end of the year.
Notice that the figure includes land based casinos found at for instance the Las Vegas strip and Atlantic City. However, the high level of commercial revenues can mostly be explained by a tremendous growth in online gambling, both sports betting and online casinos.
At Casivo, we conclude this is because of an increase in awareness of online gambling and that it has gotten legal & regulated in more states where online gambling in the state of New York is growing particularly fast.
The AGA CEO, Bill Miller also mentions that American consumers want to play within the protections of the regulated market and adds that:
"It also reinforces the need to stamp out offshore, illegal operators who prey on vulnerable customers"
At Casivo, we could not agree more with Miller and recommend all our visitors to always choose to gamble at licensed gambling sites. This is for your own protection and involves all aspects of playing online, from sharing your payment details to the tools available for responsible gaming.
Furthermore, we are looking forward to more regulations in the US where we are expecting gambling to become legal in more states and new casinos for 2022.